When I was ten years old, my mother took me to The Italian Village and then to Lyric Opera House to see Little Red Riding Hood. I felt so grown up and important, and I loved having special one-on-one time with my mom. I've cherished that "date night" and many others with my parents.  I've included some super-special ideas that may take a bit of planning, and also some that you could do tonight. Here a few ideas to make a night out with your child one to remember!
Theatre Buffs
How about some "Dinner/Theatre"?  Goodnight Moon and Runaway Bunny will be at The MAC in February and The Children's Theatre of Western Springs will be presenting "Anne of Green Gables" and "How I Became a Pirate" in March. For more performances to enjoy with your kids, click here: Live Theater For Kids: Fall 2015 Through Spring 2016! If you're looking for a different type of box-office treat, check out Annie's review of "The Good Dinosaur".
Funny Valentines
Moms can take their sons, and Dads can bring their daughters to a special Little Sweetheart's Valentine's Day Dance at Grand Avenue Gym! There's also a Mommy & Me- Be My Valentines Craft Day , a special Valentines Brunch at Brookfield Zoo or you can make a free Valentine's Mailbox at Home Depot (advance registration required). Here's a Mother and Son Dance at La Grange Park District. There's also a Be My Valentine Family Event for a group date. Click here to see all of the Valentine's Day events on the kidlist calendar!
Sports Fans
Whether you root for the Blackhawks, the Bulls, or if you want to run out and see a baseball or softball game, your little sports fan is sure to enjoy some time with you while cheering for their favorite team! My oldest son had a great time at Illini's Homecoming game this fall with his Dad and Grandpa. Add some popcorn and a special team hat to remember the day. High school sports games are another great option and can be just as exciting as professional teams.
Get Out and Get Active
If you and your date need to burn off some steam, how about a swimming date at one of these indoor pools with open swim times? How about sledding or ice skating? Bowling is a blast, too!
Tea Time
Little Princes and Princesses can enjoy High Tea at the Drake Hotel,  Butterfield Park District is hosting a special tea time, and the Darien Park District will be hosting a Sofia the First Valentine's Day Tea Party! How about a Pixie Tea Party? Pinecone Cottage has afternoon Tea Times. For a special treat, American Girl Chicago offers an afternoon tea daily at 4pm.
LEGO lover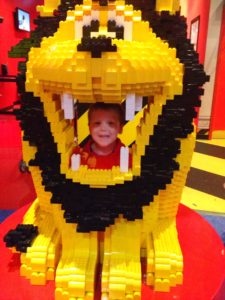 Who doesn't love some LEGO fun? A trip to the LEGOLAND Discovery Center in Schaumburg is fun for brick-lovers young and old. They have amazing displays and a two fun rides! There is also a play area that has LEGOs to play with and build. We usually allocate a small amount of money for our date to pick out one small LEGO set to take home, and finish off our trip at Woodfield Mall with a kid-friendly meal at The Rainforest Cafe or The Cheesecake Factory.
Share your values
What about a date that could brighten someone else's day? You and your child could volunteer for Feed My Starving Children and then go and share a meal, together. Click here for more volunteering and donating opportunities.
Free Fun
Date night doesn't have to break the bank. Check out these posts for Free Days at nearby museums and zoos and restaurants where Kids Eat Free! You could also take a stroll around some of the wonderful free nature centers in the area.
More than one kid? Your partner can be at home with having a date night too! How about making some homemade play doh or playing a board game, like Snoopy Flying Ace, Buggaloop or Cauldron Quest?
No matter what you do or where you go, having special alone time with your child will be something that both of you will look forward to and cherish for years to come. Have you made date night with your child(ren) a tradition? What's your favorite thing to do? Let us know in the comments!