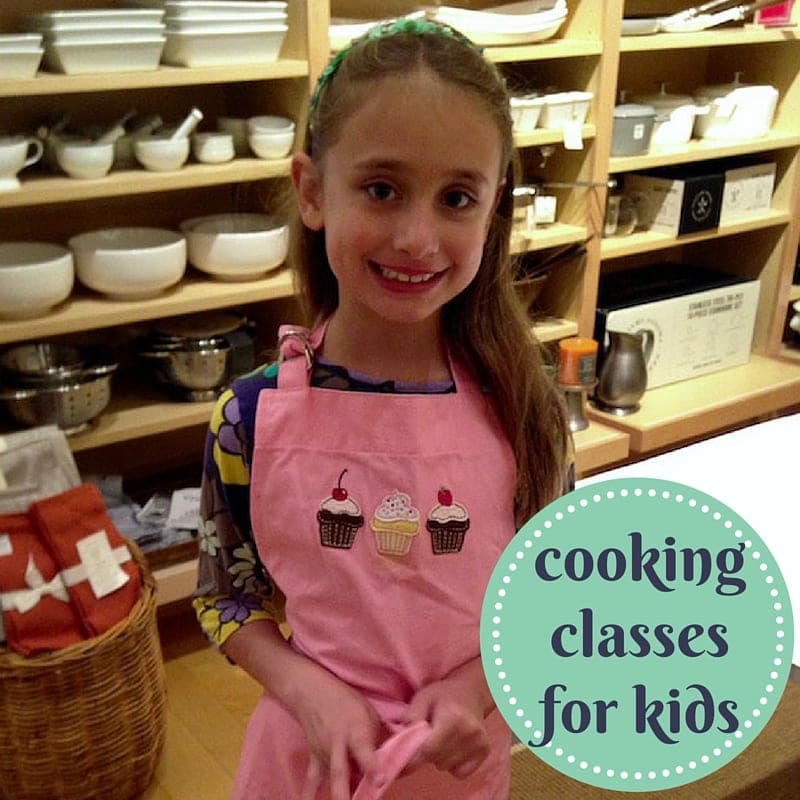 Do you have a mini chef in your house? We do! She loves every step of the culinary process from browsing recipes and shopping for ingredients to measuring, chopping and sautéing… and of course sampling the fruits of her labor! Cooking is such a valuable skill for kids. It reinforces math concepts, introduces them to new and interesting foods, and creates an overall sense of responsibility and independence in your child. More importantly, it's just plain fun to be in the kitchen with your kids! We've found some really great classes around town for junior chefs…some of them are even free. Bon appetit!
Marcel's Culinary Experience
490 North Main Street
Glen Ellyn, Illinois
(630) 790-8500
Class offerings for little to big kids and sign up happens directly on their website. They boast a team of passionate chefs and a very welcoming atmosphere. You will also find a cute shop and food market on site.
Standard Market
1508 Aurora Avenue
Naperville, Illinois
(630) 536-1630
Check their calendar for various events that are kid-focused. They have an upcoming combined yoga and culinary class for kids at their Naperville location and Westmont has done kids camps in the summer as well.
Sur La Table
55 South Main Street
Naperville, Illinois
(630) 428-1086
Family fun classes are listed on their website. Pricing is per person and classes last up around 2 to 2-½ hours. They offer tastings of the dishes prepared along with a 10% discount on purchases made in the store on the day of the class.
Williams Sonoma
142 Oak Brook Center
Oak Brook, Illinois
(630) 571-2702
These free hour long classes are really unique and fun. Be sure to sign up in advance at the store as they fill up fast! The kids are taught every step of creating a themed dish (ie. waffles/crepes) and sometimes a complete meal including appetizer/entree/dessert. Class sizes are kept small allowing everyone to participate. Generous portions are shared of all the kids' creations at the end of class. Parents receive a small discount on anything purchased during the time of the class.
Cheney Mansion
220 North Euclid Avenue
Oak Park, Illinois
(708) 725-2500
Professional chefs come into the mansion's catering kitchen for their Kids Cook series teaching basic cooking skills. Kids can explore a variety of cuisines from Japanese to Mexican to Thai. Register via the Oak Park Park District.
The Chopping Block
4747 North Lincoln
Chicago, Illinois
(773) 472-6700
Classes, camps and parties for tots, kids and teens are offered that teach fundamental cooking techniques and kitchen safety. They also offer "Family Night" classes encouraging the whole family to work together and discover new recipes.
The Kids' Table
2337 West North Avenue
Chicago, Illinois
(773) 235-2665
Offers a variety of classes, camps, kids nights and holiday celebrations for tots through teens and are focused on wholesome, healthy cooking. They have a Lincoln Park location as well.
The Dinner Club
26 South LaGrange Road
LaGrange, Illinois
(708) 579-3433
Meal assembly kitchen where kids are welcome to join their parents in prepping meals to take home and make/freeze for a later date.
Entree Kitchen
26W276 Geneva Road
Carol Stream, Illinois
(630) 668-4550
Invites kids to cook alongside their parents in their custom kitchen that is arranged to send you home with a month's worth of meals prepped within a two hour timeframe. They provide a cupcake/cookie for little chefs to decorate as well as a chef's hat/apron. Menu options change monthly.